DRIVEWAY REPLACEMENT BEGINS 4/23/18
PLEASE READ!!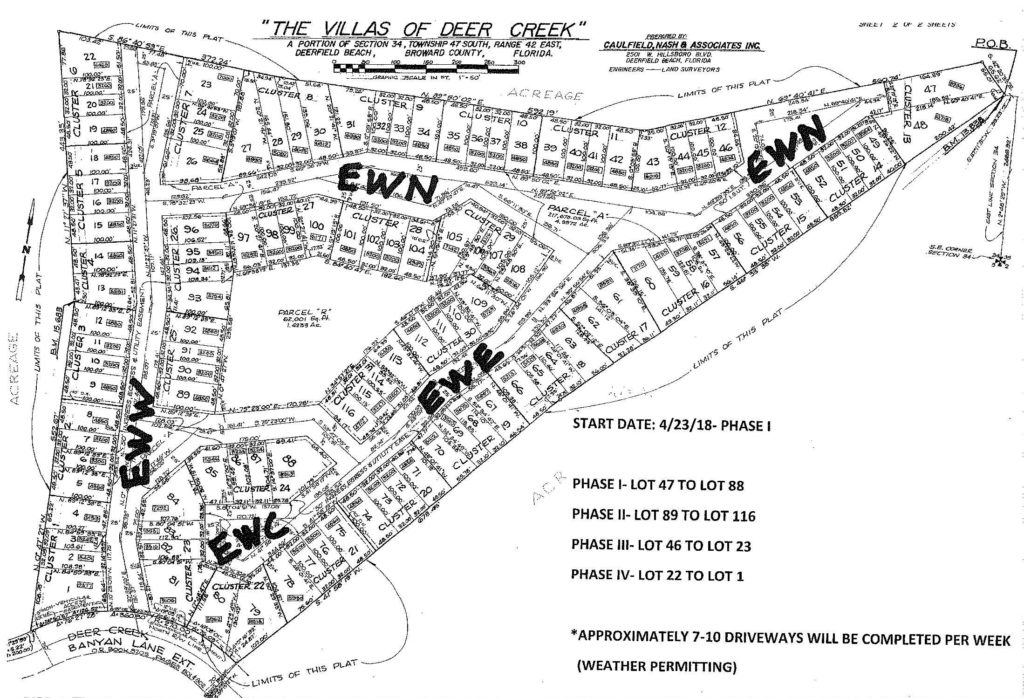 SNS Pavers will begin replacing the driveways at Villas on the Green next week.  Please take time to review the map enclosed with this notice to see how they will proceed. On your scheduled day, you can help ensure a quality job by doing the following:
• Please remove your car by 8:00 AM on your scheduled day.
• Don't drive on the driveway until the tape is removed by SNS Pavers. The driveway will need to stay closed for approximately 48 hours.
• You may park on the street overnight while your driveway is closed; however, please only use one side of the street so that emergency vehicles can pass through if needed.
• Reschedule any vendors (pool, pest, newspaper, etc.) on your
scheduled days so that they don't drive or walk in the area.
• Bring your trash cans to the end of the area they are working on for pick up. The sanitation truck may not be able to reach your home
while they are working in your area. They have only ordered enough pavers to complete the driveway project. Once that is completed, they will order more for the walkways. If you are interested in having your walkway done, please let the property manager know.
It is an inconvenience to have this work done, but hopefully we can
work together to keep it a minor one. The benefit of a greater cosmetic appearance should more than outweigh the cost.
Please contact Angela with Campbell Property Management at
aervin@campbellproperty.com or 954-571-3357 with any questions or concerns.
Thanks for helping us do the best possible job for you!